From print publications to blogs and pretty much any graphic need in-between, I would love to chat with you about your graphic needs. I may be able to assist you with yours.
Please click the image below to see more print design examples.
Holiday Wish List 2011 for Vintage PinUp Clothing
Mary Wiseman Design Publications

Center for Digital Imagery Arts Blog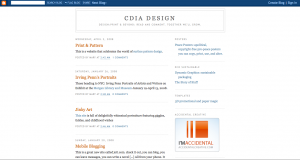 Design Blog for my students at the Center for Digital Imagery Arts, Boston University.