Allow me to assist you in creating instructional materials: slide shows, job aids, written procedures and more.  Or I can create an online learning environment to be utilized in educating your clients how-to-use your product or services.
PodCamp WesternMass 2012
Northampton, Massachusetts City Guide
I am happy to share my extended version of the city guide to Northampton which was published on Design Sponge. This extended version contains more things to do, places to visit and places to stay.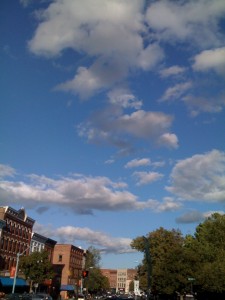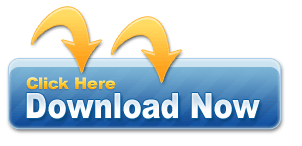 Simply click on the Download Now button above and download your guide to your desktop or mobile device.
Why you need a how-to video
eLearning Coach Training Video
MassCUE2011 Presentation, Foxborough, Massachusetts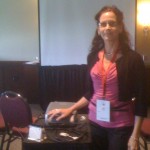 I would like to extend a big thank you for all who attended our presentation at MassCUE2011. Meg and I hope you came away with some tips you are now able to implement in your classroom or are at least giving some serious thought to what self-directed learning skills are all about and how important they can be in your life.
We had a fabulously, posh space for our presentation. Gillette Stadium is home to the Patriots [who happened to be on another field practicing-no photos allowed]. The view out onto the field was spectacular. This would put a whole new light into watching a live game.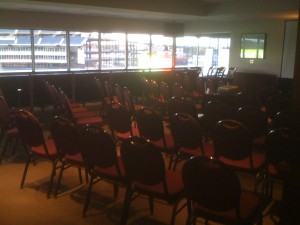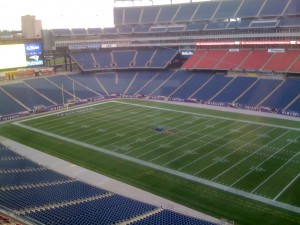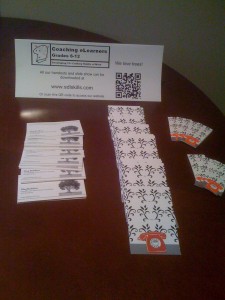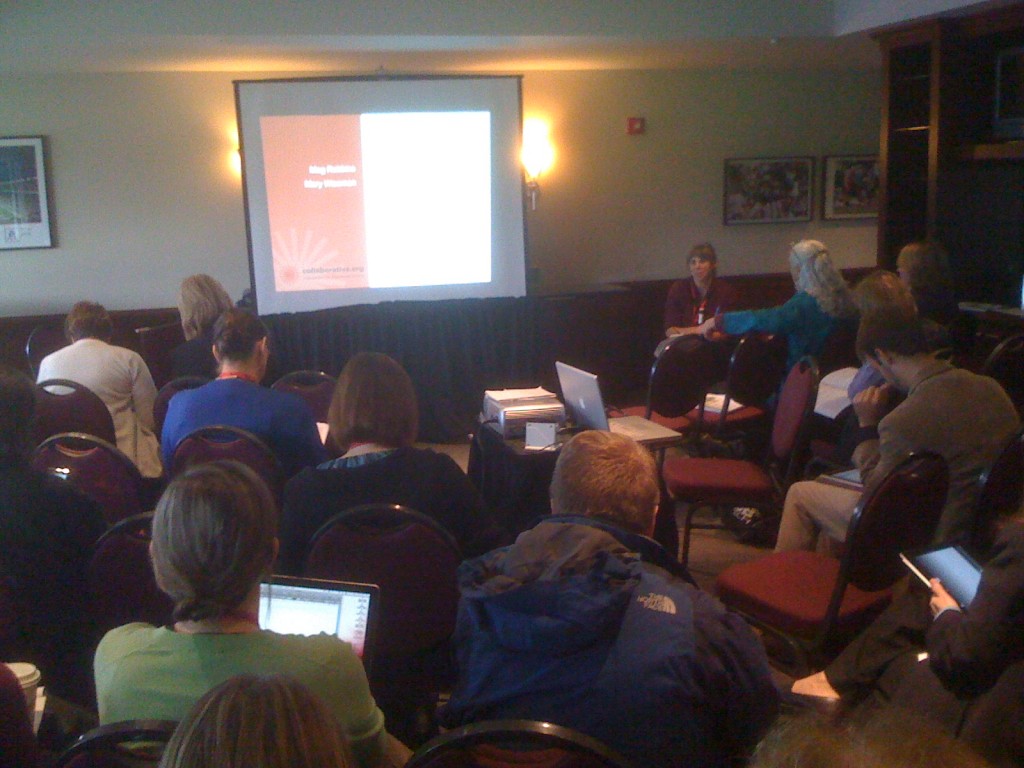 Be sure to join us for our free webinars where we will continue the conversation surrounding self-directed learning skills and how you can hone them and share them with your students, fellow colleagues and administrators.
Proposed Redesign of a Business Etiquette Course for Moodle:
Listen to my presentation:
Click on the image below to download my presentation pdf:
The Collaborative for Educational Services Online Courses:

Designed instructional materials for Coaching eLearners Course. Collaborated on the creation of the Moodle environment and co-facilitated this course. Click to view a detailed pdf copy of this course.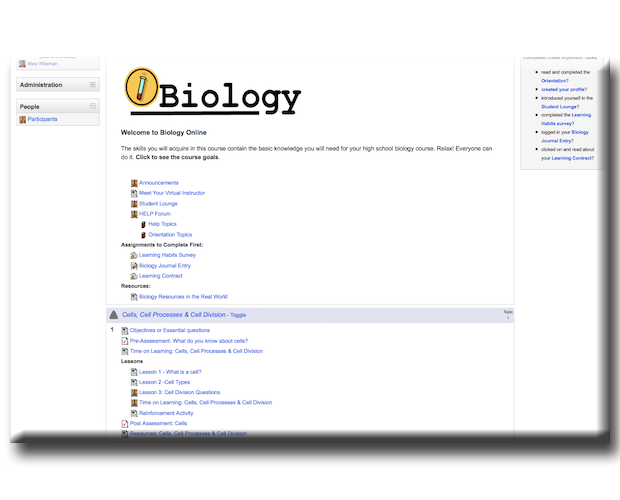 Worked with high school teacher to create a Moodle classroom containing Biology content. Click to view more deeply into the course.
Stormwater USA

I sat down with Stormwater USA and consulted with them on some of their new training materials they are in the process of re-designing.  Stormwater provides industry professionals with an accessible stormwater training program to meet the growing demands for National Pollution Discharge Elimination System [NPDES] training.  Stormwater has created a series of web-based NPDES training courses to ensure that every construction professional has access to this vital training.
The Collaborative for Educational Services: Coaching eLearners 6-12 Summer 2011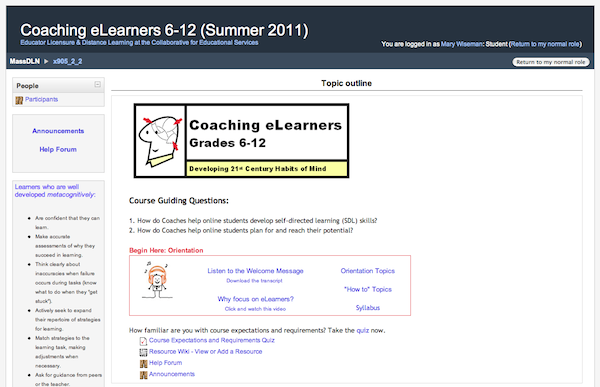 Collaboratively developed and co-facilitate the Coaching eLearners 6-12 online course which trains educators to coach online learners in developing strong learning skills necessary to be successful self-directed learners.  One coach reported, "I learned more than I had ever imagined.  The course provided me with a wealth of knowledge about self-directed, open-minded thinking, goals and learning contracts, and so much more about helping students use meta-cognition and being taking responsibility for their own learning. I was never bored!
The Collaborative for Educational Services: Podcasting Workshop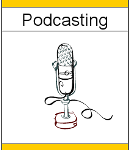 A promotional poster for the Podcasting Workshop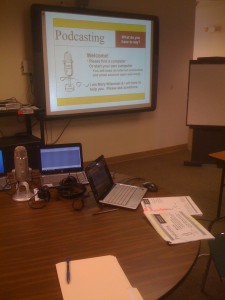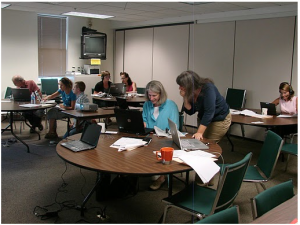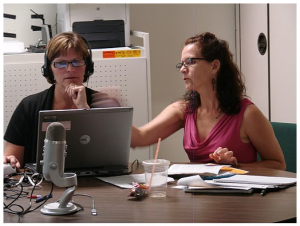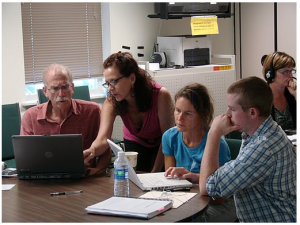 Images of Podcasters @ the Workshop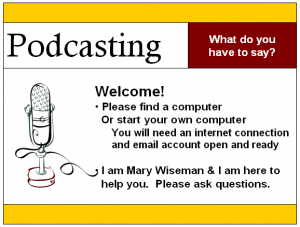 A slide show for the Podcasting Workshop
Podcaster Testimonials:
'Excellent workshop-I appreciated both the info about podcasting and the hands-on practice. Thank you for your patience!'
'This has been a great start!  It is inspiring to think of all the ways we could use this technology. I see that this could be simple and also get very complex, as with most technology!'
'It was a great session, I learned alot!'
Developing curriculum for the Web Design Diploma.  The Institute for Digital Media Arts [IDMA]  is also a part of Digital Slate who are creating, building and managing highly interactive on-line learning communities. Centered on the philosophy that learning is more effective in a collaborative, community environment, Digital Slate and IDMA use the most advanced, adaptable and student-friendly learning management systems available to build a Virtual Campus.
Developing 776 Algebra Online within a Moodle Learning Environment
Collaborated on the development of a flexible self-paced, online course which incorporates online instruction with supportive face-to-face coaching. This Algebra course includes videos, audio, interactive written explanations, multiple practice problem sets for each concept, and immediate individualized feedback on student progress.
Center for Digital Imagery Arts, Boston University. Waltham, MA
Informal Blog to assist students in understanding online learning environments.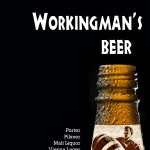 The International School of Beijing.  Beijing, China.
Click on images below to read more.